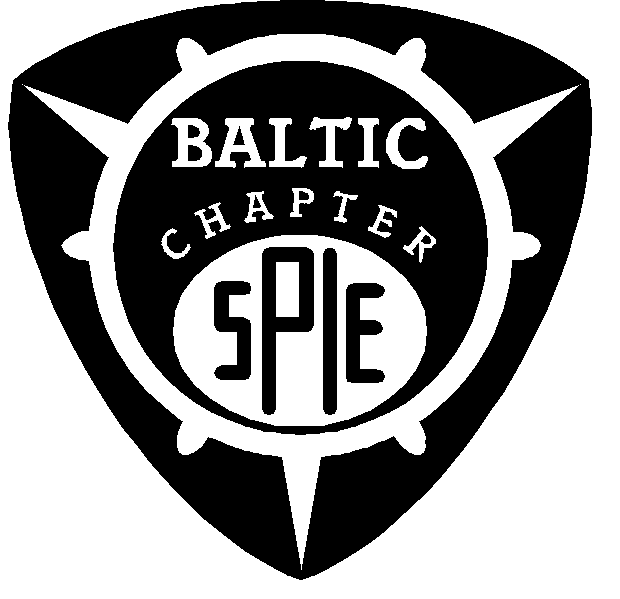 SPIE/BALTIC:
Baltic Chapter of SPIE - The International Society for Optical Engineering
SPIE/Baltic is a professional non-profit social organization registered in the Republic of Latvia, # 000800722. It was founded on 13 May, 1994, to promote the exchange of information and the technical activities on optical engineering, photonics, applied optics, biomedical optics and related areas for the benefit of SPIE and Chapter members in Estonia, Latvia and Lithuania. The basic regulatory documents of SPIE/Baltic are Constitution, Bylaws and Memorandum of Understanding between SPIE International (http://www.spie.org) and the Chapter (http://home.lanet.lv/~asi/spiebalt.htm).
Three Branches of SPIE/Baltic - Estonian, Latvian, and Lithuanian - are responsible for local activities which are initiated by the offices in Tallinn, Riga and Vilnius, respectively. The Chapter leadership and the main office address are rotating - Riga in 1994-1996, Tallinn in 1997-1998, Vilnius in 1999-2000, and so on.
About 100 individual and corporate members of SPIE/Baltic are registered; the membership has tendency to grow.
Activities of SPIE/Baltic include recognition and involvement of optics professionals from the Baltic states, dissemination of SPIE periodicals OPTICAL ENGINEERING, BIOMEDICAL OPTICS and OE REPORTS as well as newsletters and conference announcements, presentation of optical products developed and manufactured in the Baltic states at international exhibitions and trade shows - e. g. OPTICAL SCIENCE, ENGINEERING AND INSTRUMENTATION, San Diego, CA, 1995, PHOTONICS WEST and BIOMEDICAL INSTRUMENTATION, San Jose, CA, 1996 and 1997, etc.
The main events organized by SPIE/Baltic - three International Conferences ADVANCED OPTICAL MATERIALS AND DEVICES (AOMD '96, Riga, Latvia, 26-29.08.96 and ADOM-2, Vilnius, Lithuania, 16-19.08.2000; AOMD-3, Riga, Latvia, 19-22.08.2002). The conference proceedings are published:
- SPIE Proc. Vol. 2967 "Optical Inorganic Dielectric Materials and Devices", ed. A. Krumins, D. K. Milllers, A. Sternberg, J. Spigulis;
- SPIE Proc. Vol. 2968 "Optical Organic and Semiconductor Inorganic Materials", ed. E. A. Silinsh, A. Medvid, A. R. Lusis, A. O. Ozols;
- SPIE Proc. Vol. 4318 "Smart Optical Inorganic Structures and Devices", ed. S. Asmontas and J. Gradauskas;
- SPIE Proc. Vol. 4415 "Optical Organic and Inorganic Materials", ed. S. Asmontas and J. Gradauskas;
- SPIE Proc. Vol. 5122 "Advanced Organic and Inorganic Optical Materials", ed. A. Kruminsh, D. Millers, I. Muzikante, A. Sternbergs, V. Zauls, 2003, 442 p.;
- SPIE Proc. Vol. 5123 "Advanced Optical Devices, Technologies, and Medical Applications", ed. J. Spigulis, J. Teteris, M. Ozolinsh, A. Lusis, 2003, 364 p.
SPIE/Baltic leadership and offices in 2001-2002:
Executive Committee of the SPIE/Baltic Chapter
Janis Spigulis – University of Latvia, Riga, Latvia (Chairman)
Andris Krumins – University of Latvia, Riga, Latvia (Vice-Chairman)
Kristjan Haller - Tartu University, Institute of Physics, Tartu, Estonia
Enn Mellikov - Tallinn Technical University, Tallinn, Estonia
Steponas Ađmontas – Semiconductor Physics Institute, Vilnius, Lithuania
Jonas Gradauskas – Semiconductor Physics Institute, Vilnius, Lithuania
Latvian Branch (the main office of SPIE/Baltic, 2001-2002)
Prof. Janis Spigulis - chairman of SPIE/Baltic/LV
Ms. Inga Shirante - secretary-accountant
Skunu 4
Riga, LV-1050
Latvia
Tel/Fax +371 7228249
E-mail spie@latnet.lv; janispi@latnet.lv
Estonian Branch
Prof. Enn Mellikov - chairman of SPIE/Baltic /EE
Tallinn Technical University
Ehitajete 5
EE0026 Tallinn
Estonia
Tel/Fax: +372 2474441 or +372 6202798
E-mail: enn@opto.ttu.ee;  enn@edu.ttu.ee
Lithuanian Branch
Prof. Steponas Asmontas - chairman of SPIE/Baltic/LT
Dr. Jonas Gradauskas - Secretary-Treasurer of SPIE/Baltic
Semiconductor Physics Institute
Gostauto 11
2600 Vilnius
Lithuania
Tel. +370 2627124, Fax +370 2627123
E-mail: asmontas@uj.pfi.lt; jonas@uj.pfi.lt