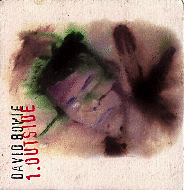 There are two other multimedia sites for the Outside album.
Release details

Released by Virgin Records (USA), September 26, 1995

Producer

David Bowie and Brian Eno
Co-produced and engineered by David Richards

Musicians

David Bowie: vocals, saxophone, guitar, keyboards
Brian Eno: synthesizers, treatments, strategies
Reeves Gabrels: guitar
Erdal Kizilcay: bass, keyboards
Mike Garson: grand piano
Sterling Campbell: drums
Carlos Alomar: rhythm guitar
Joey Barron: drums
Yossi Fine: bass
Tom Frish: additional guitar on Strangers When We Meet
Kevin Armstrong: additional guitar on Thru' These Architect's Eyes
Bryony, Lola, Josey and Ruby Edwards: backing vocals on The Heart's Filthy Lesson and I Am With Name

Assistant Engineers

Ben Fenner, Andy Grassi, Jon Goldberger, Domonik

Album Design & Image Manipulation

Denovo

Album Cover Concept

David Bowie and Denovo

Front Cover Painting

"Head of DB" (11"x11") acrylic on canvas 1995 by David Bowie

Photography

John Scarisbrick

Stylist

Jennifer Elster

Recorded at Mountain Studios, Switzerland

Mixed and additional treatments by David Richards, assisted by David Bowie

Mastered by David Richards and Kevin Metcalfe at The Town House Digital Mastering Studio, London
This album marks a reunion with Brian Eno. It has been described as a concept album, modeled after a short story titled The Diary of Nathan Addler or Art-Ritual Murder of Baby .